Special Events
Show Activities
Our show preparations to organize, jury, and judge artworks were held at Strathmore Mansion.
Our exhibit would not be possible without dedicated local members, friends, and family
who make our show possible. Many hours are spent organizing, jurying, judging, and hanging the works.
Please visit our exhibit of miniature gems from some of the finest miniature artists around the world.
Jury Day - 2022 Exhibit
We always receive so many wonderful works!

Public Opening - 2022 Exhibit

Strathmore Street Banner
2022 Exhibit
Art by Judy Lalingo
MPSGS member Laura Trent Stein shows miniature art materials for painting in oil and watercolor to the members of The Strathmore Foundation board on 11/30/22

MPSGS member Sandi Atkinson displayed her artwork and answered questions about miniature art for Strathmore tea attendees on 12/13/22

2022 Exhibit

2021 Exhibit
Our beautiful display ready for the opening.
This is just one room!
2020 Exhibit
Although the halls of Strathmore were quieter than usual in 2020, we were able to
host timed entry visits for our wonderful patrons. Strathmore staff kept the purchasing process safe
with social distancing. We displayed works on both floors of the Mansion. Even though we may
not have had as many visitors to the physical show, our online sales were brisk.
A huge thank you to our patrons!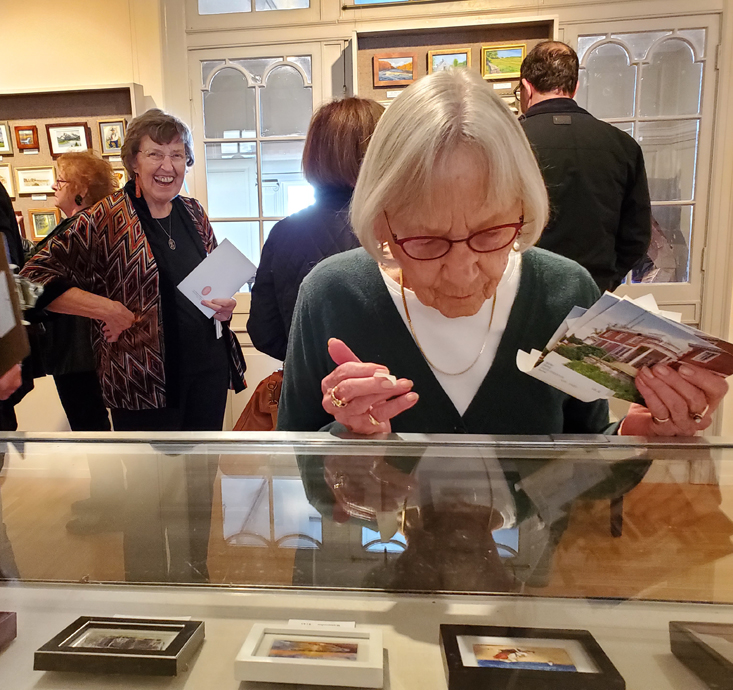 2019 Exhibit - Opening Weekend

Genevieve Roberts
We are proud to call Genevieve Roberts a beloved Emeritus member of our Society.
She has reached the milestone of age 102 and is still teaching art, and faithfully enters her works in the MPSGS exhibit.
She opened her home for organization of MPSGS show artworks for many years, and we truly appreciate it!